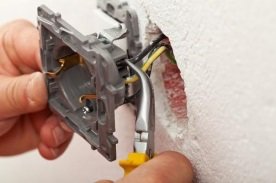 At Kalos Services we take the service needs of your home or business very seriously. Licensed as master electricians, we can handle any electrical service need you might be experiencing. Our motto, "Simply Great Service" to us means that when you call with an electrical service problem you will know what to expect. We will:
Be professional and treat you with respect
Respond in a short time frame
Give fair and reasonable pricing
Diagnose the issue
Provide upfront quotes for repairs
Our electricians are all well trained professionals, who will treat both you and your home with respect, while repairing your problem as quickly and cost effectively as possible. Kalos Services, based in Clermont, FL is family owned and operated; we've been serving the residential and commercial electrical service needs of the Central Florida area for almost a decade. Our professional electricians can come to your home and diagnosis electrical service problem you may be having. We perform all electrical work personally so you can be sure of our excellent quality and service. Every technician we employ has direct access to the company's license holders and has been trained in modern safety requirements to ensure any work we perform is meeting or exceeding current electrician safety regulations. For any Electrical Service issue you might be having please call our office to set up a service call today.
We can do electrical repairs and upgrades including:
Ceiling Fan Replacement
Outlet Relocation
Breakers Tripping
New Lighting Installation
Recessed Lighting
Surge Protection
Panel Upgrades
We like to break down our Electrical Services into Three Categories
Click the links to learn more:
Click through the above links to find more information on how our electricians we can serve you