A rising trend of air conditioning theft has been growing around the country. For years throughout the United States, thieves have been keen to cut the copper lines in a central air conditioning unit and sell it for scrap metal. Recently, there has been a growing number of reports of thieves stealing the entire outdoor condenser to sell for salvage money or as replacement units online. So, you may feel an increasing need to protect your A/C unit.
News stories like the one below illustrate the growing problem. A growing number of consumers are have seen their units, worth anywhere from 3 to 10 thousand dollars, destroyed with no choice but to buy a brand new system. It is a costly inconvenience but one that we can avoid. We have a solution below the video for how to secure your unit. You could potentially protect your A/C unit and thousands of dollars in replacement cost!
So, what can we do?
Are you concerned about the possibility of this happening at your residence or business? Don't be! Protect your A/C unit by installing what's called an Air Conditioner Cage. That product is a steel frame cage bolted to the ground around the outside condensing unit. It's a great way to deter thieves from tampering with or ruining your costly heating and cooling equipment. While it won't stop every thief, it will likely cause thieves enough trouble and hassle that they will move on to other homes that aren't protected. In the end, it comes down to security and peace of mind.
If you've just recently purchased a new system or feel like you can't afford to buy a new one in the event of a robbery, give this product some thought and protect your A/C unit today. Check out the sample picture below and call us if you are interested or have any questions about securing your assets and obtaining some more peace of mind!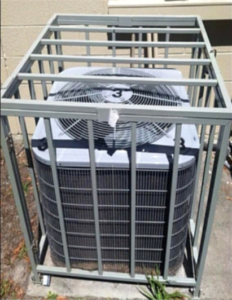 Call 352-243-7088 for more information or visit www.KalosFlorida.com