Over the past six months, I've been training to become an HVAC tech. I've learned so much along the way, but today, I'm pleased to share with you the three most surprising things I've learned.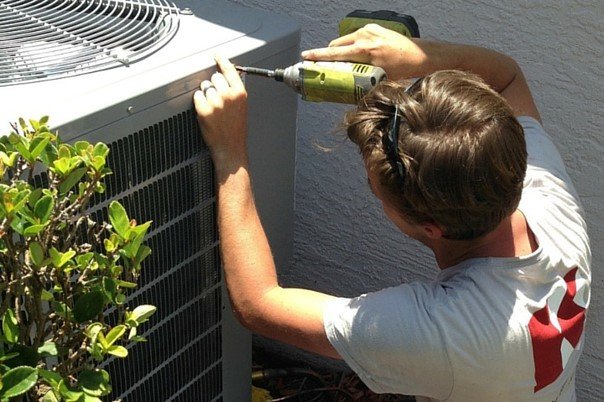 How a small issue can cause big problems
It was surprising for me to learn that a small issue—if ignored—can cause a much larger problem later on with your air conditioning unit. It's easy to take something as simple as cleaning your drain line or regularly changing your air filters for granted, yet it is surprising how much those things matter. Taking care of these two simple items can make a huge difference in prolonging the life of your system. Before being in this industry, I wouldn't pay attention to these small details. I learned the hard way, though, and water flooded right into my garage from my A/C unit's overflowing drain! This leak caused damage to the platform that the unit sat on and even made it all the way to the bedroom closet. I have learned that it pays to keep up with these small items and that almost anyone can do it themselves.
How helpful preventive maintenance is
A/C maintenance is a great way to give your system a check-up to ensure things are working properly before you hit the heat of summer or the cold of winter. While we wish that our units would just run forever, we all know there are things that we can't plan for. During maintenance, the entire system is checked—inside and out. We do that to ensure that your system is running to factory specifications (or as close to them as possible). If we find any issues during this process, we take the time to discuss these with you and give you options on any next steps you can take. This program is a wonderful service an HVAC tech can provide, and it has surprised me how valuable it can be for a customer.
How much HVAC techs care about their jobs and customers
Of course, each tech is different. We all have different styles of work. However, I've noticed that there's one consistent attribute across the board: how much every Kalos Services HVAC tech cares about their job and customers. They all realize that they are here to assist you in any way necessary. Kalos techs will spend that extra time to ensure that your system is working properly. A good HVAC tech will work hard to find any issues and repair them as quickly as possible. They all realize that you, the customer, are the reason they are here each day. So, they'll always strive to provide you with Simply Great Service!
I have had a great six months learning this industry. I also have enjoyed meeting and talking with each customer I have come across. This business is not only about fixing air conditioners; it is also about making relationships with each person we get to come into contact with. I hope to see you out in the field sometime!
Britton Bingham
Service Specialist
More questions about my first 6 months? Make sure to sound off in the comments or leave us a Voicemail. If you do, you might end up on our Podcast!


You may also fill out the form below, and we will contact you back soon: