Common Property Management Issues: Thermostats
There are a lot of really great products on the market these days for saving energy. Sometimes, they are easy to use. Other times, they can be quite confusing. Thermostats can greatly reduce or increase your efficiency, and a knowledge of the best systems is an essential skill for the modern-day property manager. Today, we will discuss some of the challenges for property managers in regard to the thermostat. Certain types of thermostats can be great tools in your own personal home. However, they may not be effective in a rental or vacation home. The thermostat can help you manage your air conditioning system well. On the other hand, it is easy to misuse. You could waste energy and put your system through extra wear and tear.
Firstly, as a homeowner, you may be willing to take the time to program different temperatures for different times of the day on a thermostat. For a tenant or guest, this programming option will often lead to confusion, temperature complaints, and high power bills. People often set thermostats incorrectly, which adds to the issue. We regularly hear questions from property managers about features on thermostats that shut off the A/C when doors or windows are opened. In theory, that is a good idea. However, in practice, that idea often results in unneeded service calls. That feature decreases the long-term health of the system, and there's still confusion about how it works.
With a feature that shuts off the A/C when a window opens, it's very common for a  guest to call and complain that the house is warm and the manager asks if the doors and windows are closed. The guest says yes (which means they are closed now after being left open all day). When you dispatch a service technician, they will find nothing wrong. There's also no way to prove if doors or windows were left open and caused the original problem.
Honeywell Focus Pro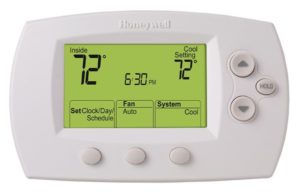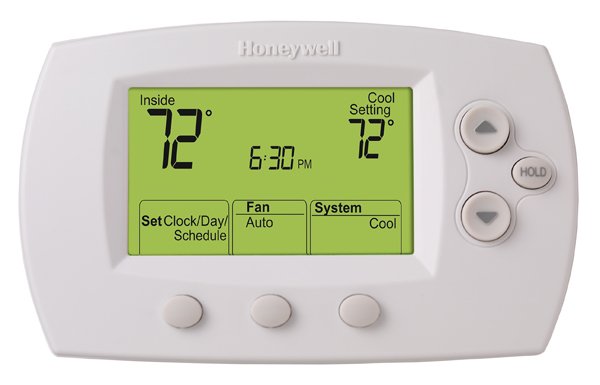 We suggest a simple and reliable Honeywell Focus Pro thermostat for the rental properties you're managing. Here are some reasons:
1. You can program internal settings to set the temperature to a maximum setting in heating and a minimum setting in cooling. (We usually suggest setting them to 75° in heat and 72° in cooling.)
2. The tenant now has the opportunity to have control over an easy-to-use system within a reasonable range of settings.
3. The Honeywell Focus Pro thermostat allows you to have a very reliable and energy-efficient solution to prevent high power consumption, system failure (freezing) and reduce guest complaints.
As always, you can call us directly at 352-243-7088 for further questions or requests for service.
We are happy to help you with questions or training at any time. Give us a call and we will try to connect you with someone who has the answer. We would also be happy to speak at any of your company/organizational meetings or give onsite classes on the subject of your choosing. It is our pleasure to help, and we look forward to helping you succeed.
Do you have questions? We can help! Fill out the form below: