Avoid Scams and Theft
In the State of Florida and around the country, you hear stories all the time about unsuspecting homeowners being the victims of theft or scams by an unlicensed contractor who works or says he is going to do work on their homes.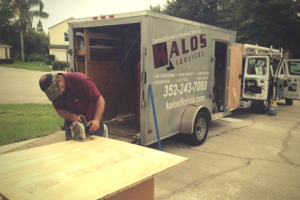 Before you let a contractor into your home or business, you must know for sure if that person is a licensed professional or not. Hiring a licensed contractor offers many additional protections to the property owner, especially regarding residential property. First of all, a contractor cannot obtain a license without a minimum amount of experience, and they must pass a business management test. The applicant also may be subjected to a criminal history background check and must not have any unresolved contracting complaints outstanding.
Five Minutes Can Save You One Huge Headache
So, here's our five-minute process that could potentially protect you from a huge financial mistake.
*We will be using The State of Florida as our example. If you live in another state, the laws will be similar, but check your government's regulations and laws for differences.
For the fastest results, just follow this link to arrive at the search page.
This is part of the MyFlorida.com Department of Business and Professional Regulation website. You can also access the license verification database from the main page. Navigate to http://www.myfloridalicense.com/DBPR/. You will see two yellow buttons beneath the search bar, and the one on the right says "Verify a License." Select that button.
If you are checking a particular company or a certain individual, click on Search by Name, but there are other options available as Next, click the Search button at the right.
Now, you can enter your information to search for a particular person or company. Usually, you will find who you are looking for with their name and correct city.
You'll see a list of licenses on the screen, and in our particular case, see the Air Conditioning, Electrical and General Contractors license we hold. (You can also click into the entry to further investigate the company – to ensure that everything is up to date with their Florida license and that you are looking at the right company.)
Contractor Check Complete
There you go! Though this process won't completely protect you from incompetence, it will at least protect you from scammers. This process can be a great resource when you're doing business with anyone you have not properly vetted or without solid referrals. Check out websites like Angi or the Better Business Bureau for reviews on how that company does business. You can also see if their customers are pleased with them!
Do you have questions? We can help! Fill out the form below: