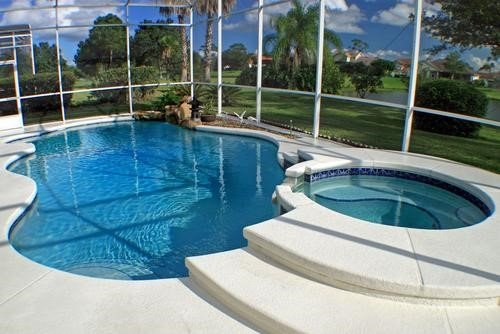 At Kalos Services we are one of the few truly experienced pool heat repair companies in Central Florida. We are qualified to diagnose and repair electric, heat pump, NG and LP pool heaters. We repair most makes and models with both factory and aftermarket parts based on your request.
If you're a homeowner that would like your swimming pool to be more comfortable year round, or a property manager with tenants and guests that expect pool heating in any season, our comprehensive approach is your answer. Pool heater maintenance can always be accomplished along with an air conditioning maintenance and our qualified service team can get your pool ready for those cool fall and winter months. We will always give you an accurate quoted price before we proceed with any work. This ensures that you are in control of the entire process from diagnosis to repair.
If you are a property manager, we have some great solutions on how to keep better offsite control of the pool heater. For a short term vacation rental home, a pool is becoming a staple of what guests desire in a property they are considering. We've found that pool heaters can be a great added feature when your guest is closing a booking on a home. Conversely when there is an issue with the pool heating the issue will cause a lot of guest complaints. Kalos Services can save you time and money through less service calls, higher tenant/guest satisfaction and extending the lifetime of the systems.
[spacer]
We can repair / install
[span2]
Pool heaters
Spa heaters
Pool control systems
Automatic actuators
[/span2][span4]
Spa blowers
Water pressure switches
Air & water temperature sensors
Fan motors
Freon / Puron recharge and leak detection
[/span4]

[spacer]
We service most pool heater makes and models including
[span2]
Solarium
Aquacal
Tropical
Hayward
[/span2][span2]
Pentair
Summit
EUS
Turcotte
[/span2][span2]

[/span2]

[spacer]
We are proud to install high quality Hayward pool heaters with some of the best warranties and efficiencies available.

Hayward H Series
Fully digital control
Pool / Spa compatible
Available in NG & LP
Rust resistant
Click here to view a brochure.