Commercial Refrigeration Apprentice
We are hiring for apprentices in the commercial refrigeration trade. Whether you are just getting out of school and looking for direction in life or wanting to start over with a new career, Kalos would like to learn more about you.
We are seeking applicants who will work under our senior technicians to learn how to repair commercial refrigeration systems. We have a thorough training regime and access to many quality resources to enhance your learning. You will learn how to diagnose and solve a wide range of problems in the field. At Kalos, it doesn't matter where you are when you get here. What matters is what you make of your career. It would be our honor to offer you a hand as you take that first step into the HVAC/R trades.
Title
Commercial Refrigeration Apprentice
Division
Service Commercial Heavy (SCH)
Where Is work performed?
Greater Central Florida area and Jacksonville area.
Who does this position report to?
What current locations of residence do we consider?
We consider applicants who live within 50 miles of the Kalos office in Clermont, FL and Jacksonville, FL.
What is the pay range for this position?
Varies depending on experience
What travel requirements are there for this position?
Travel is required for this position. The company pays for transportation costs, lodging, and per diem as appropriate.
What days / times would the schedule be for this position?
This position is primarily night work.
Is overtime expected?
Sometimes, with appropriate compensation.
What are the physical requirements?
Clean criminal record
Drug-free
No extreme/offensive tattoos or piercings
Good mechanical aptitude
Clean or near clean driving record
Must be able to climb ladders
Must be able to lift 50+ lbs with or without assistance from time to time
Must be willing to work hard 40-70 hrs per week
What skills are required?
Basic computer literacy skills
Previous technical/mechanical experience in another industry, whether it's from a previous job or a hobby
Customer service or sales experience
Must be able to communicate clearly in English (bi-lingual is a plus)
What are some of the key attributes?
Showing up to work on time or early
Being analytic-minded
Must be able to be honest, no matter what
Staying off your phone and giving your full attention to your trainer and the job at hand
Asking your trainer many questions
Cleaning or researching while you don't have any tasks
Doing independent learning on hvacrschool.com
Making eye contact and listening carefully when customers and coworkers speak to you
Keeping a positive attitude
Working hard and staying safety-oriented (hydrate!)
What is the key mindset for success in this role?
We look for people who always like to keep their minds occupied with work when on the job. This person is punctual, studious, and positive about the future and the people around them. They use slow times as opportunities to clean their spaces, read, and research. They do NOT use their phones or ignore their trainers and senior techs. We have a wealth of resources at the office and online, and successful trainees know where to access and use these resources for their own personal growth. If they don't know, they ask. Those traits will make them successful in our company.
When does this role need to be filled?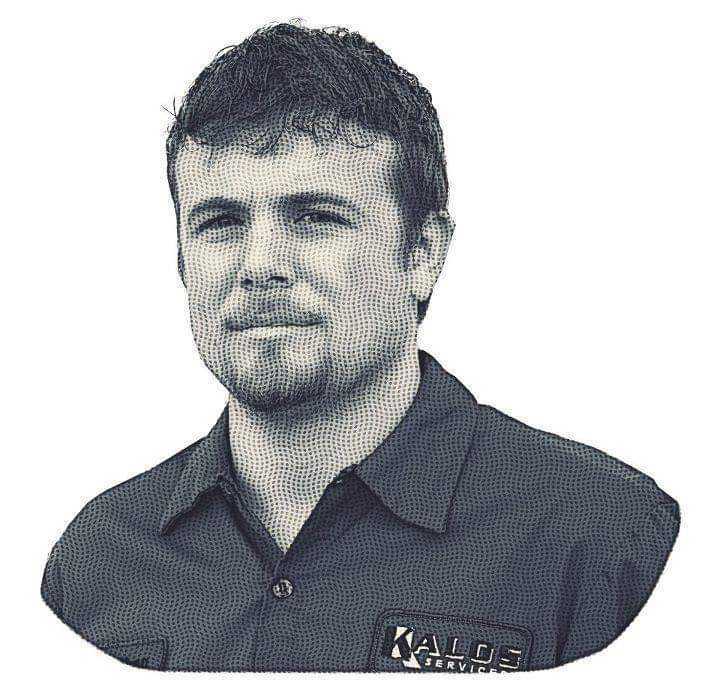 Nathan Orr
Whether you work in commercial refrigeration or residential HVAC, we look for the same core traits in our technicians. From apprentice to senior tech, we look for integrity, willingness to learn, and perseverance in the face of a tough problem. If you've got that blue-collar grit and an appetite for knowledge, we think you will fit right in with our Kalos team.