Commercial Projects Electrician
We are hiring for Commercial Projects Electricians. Our electricians work exclusively on commercial projects, they install, repair, modify, inspect, and test electrical systems and components. Electricians must communicate with engineers, project managers, and other team members. Electricians must be able to read and execute blueprints and take a safe approach to their work.
Although the electrical trade contains many hazards, safety is our top priority. Electricians should know OSHA safety procedures and must set a good example for apprentice electricians. They must differentiate motor types and be comfortable working with high and low voltage.
Title
Commercial Projects Electrician
Who does this position report to?
What current locations of residence do we consider?
We will consider applicants who live within 120 miles of Clermont, FL.
What is the pay range for this position?
$18 – $30 per hour based on skill level
What travel requirements are there for this position?
Travel will be required, housing and per diem will be provided and paid for by the company as appropriate.
What days / times would the schedule be for this position?
Is overtime expected?
Yes, with fair compensation.
What are the physical requirements?
Must be 18 years of age or older
Drug-free
5+ years of commercial electrical experience
Good mechanical aptitude
Clean or near clean driving record
Must be able to communicate clearly in English (bi-lingual is a plus)
Significant previous grocery store, big-box, or ground-up construction electrical experience
Commercial experience with high voltage and low voltage.
Must be able to lift 50+ lbs with or without assistance regularly
Must be able to climb ladders easily
What skills are required?
Ability to run and bend conduit
Ability to perform work in new and remodel situations
Understanding working in an open and occupied facility
Blueprint reading
Use of CAD programs and other related technologies
Understanding of Best Management safety practices
Understanding of basic OSHA standards
Understanding circuitry in multiple voltages, including 277/480, and differentiating the markings, nomenclature, and practices of each
What are some of the key attributes?
To succeed in this position, the ideal applicant:
Conducts themselves in accordance with OSHA standards
Must be able to be honest, no matter what
Is open-minded and willing to take feedback
Is a good listener
Can use all typical electrical tools safely
Has a positive attitude and commits themselves to the job
Is analytically minded
Has previous technical/mechanical experience in another industry
What is the key mindset for success in this role?
At Kalos, we require hard-working individuals who will commit to their ongoing learning, even as seniors in their field. We constantly tackle new challenges in the electrical division. As such, our best senior electricians respond to those challenges positively and see each one as a learning experience. Of course, they also understand that absolutely NOTHING is more important than the safety of customers, other team members, themselves, and the public.
When does this role need to be filled?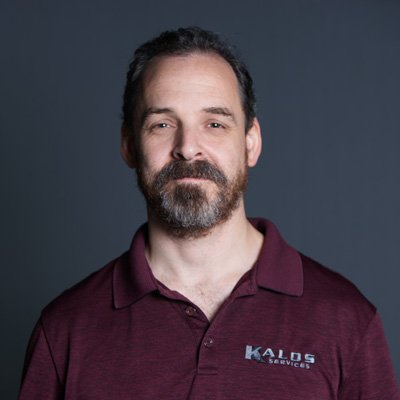 Phil Barr
Kalos electricians are a hardworking group of people who can see the big picture and the details. They must be project-oriented enough to see the whole picture and communicate with other team members. However, they must also be able to pay close attention to the fine details of their work. Electricity is a staple of everyday life, but it is also hazardous and requires care and respect. Apply only if you can give your work the finesse and care it deserves while setting a good example for newer electricians.