If you'd like to apply for a job today or learn more about our current job offerings before the job fair, please visit www.kalosflorida.com/jobs/.
The Kalos Services team is excited to announce that we will be holding a job fair at the Kalos HQ in Clermont, FL, on Saturday, May 21st, 2022, from 11 AM to 2 PM! Located at 236 Hatteras Avenue, Clermont, Florida 34711.
We are hiring for all sorts of positions. If you have always wanted to try a career in the skilled trades or are currently exploring your career options, we encourage you to stop by. You will be able to meet our management team, eat some good food, and grab some giveaways.
We will be conducting interviews and giving job offers on-site, so you could end up leaving the job fair with a brand new opportunity.
What experience is required?
Prior construction or management experience is NOT required! We do on-the-job training at Kalos and are happy to train people who are interested in the work and willing to learn. However, we do recommend having some prior experience that is relevant to the job you apply for. For example, having worked on cars or other types of machines in the past is a plus; that experience shows us that you are comfortable working with your hands.
We would like potential customer service representatives and managers to have relevant experience as well, even if it doesn't directly pertain to the job to which you are applying.
Why work with Kalos?
Now, you're probably wondering, "What would a career at Kalos Services do for me?"
We offer competitive pay and benefits for all employees. If you work for Kalos, you and your family will have access to the following benefits:
Insurance

Life
Health
Dental
Hospitalization
Disability

401k with up to 4% match
Three (3) FREE therapy sessions per family member
Unlimited legal advice by phone
One (1) FREE in-person legal consultation
Partial tuition coverage
Six (6) paid holidays
Paid vacation days after one full year of working for Kalos
Projects workers will be reimbursed the MAXIMUM allowable amount for fuel, lodging, and food expenses (per IRS guidelines).
We also provide on-the-job training, apprenticeship programs, leadership training, and resources for personal development to all employees.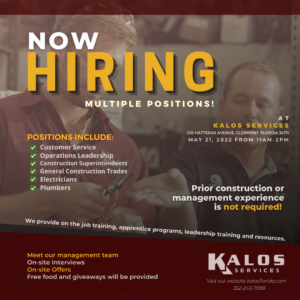 The Kalos team is excited to meet prospective applicants. Whether you bring plenty of experience to the table or want to try something new, we want to get to know you and see if you'll be a good fit for our team. You'll also have the chance to learn about our company culture and see if Kalos is right for you.
Kalos Services is an equal opportunity employer, meaning that we do not discriminate against potential applicants based on sex, race, religion, sexual orientation, gender identity, ethnicity, relationship status, or disability status. So, anyone is welcome to check out our job fair and apply to Kalos. We evaluate each person's work ethic, ability to perform the job, and emotional intelligence.
So, be sure to put May 21st on your calendar and stop by 236 Hatteras Avenue (Clermont, FL, 34711) from 11 AM to 2 PM! If you have any questions about this event, please call or text us at (352)-243-7099. We look forward to meeting you!