Making the decision to replace your HVAC system is not easy for many people. An A/C unit is an investment, and installing a new one can be quite a burden, even with financing options. It can be difficult to weigh all of your options and predict a price before a company sends an A/C tech out to give you a quote. Well, Kalos Services' new instant-quote feature is here to help!
If you decide to use Kalos as your contractor for an A/C system replacement and are within our service area, you can get an estimate ahead of time by providing some information about your system and looking at your options and upgrades. Then, if you complete the forms, you can schedule someone to come out and give you a quote.
This tip is a guide that explains how to use instant-quote, what Kalos's system replacement offerings are, and even how you can use instant-quote to get new system accessories at discounted rates. We will show the process for registered users of our site; if you are not a registered user, you will be required to sign up (at no cost) before completing most of the instant-quote questionnaire.
WHERE TO FIND INSTANT-QUOTE
When you arrive at the Kalos home page, hover your mouse cursor over the SERVICES tab at the top. You should see two new options: Residential Service and Commercial. Once again, hover your mouse over "Residential Service." You will see another menu with options. Instant-Quote will be at the very top.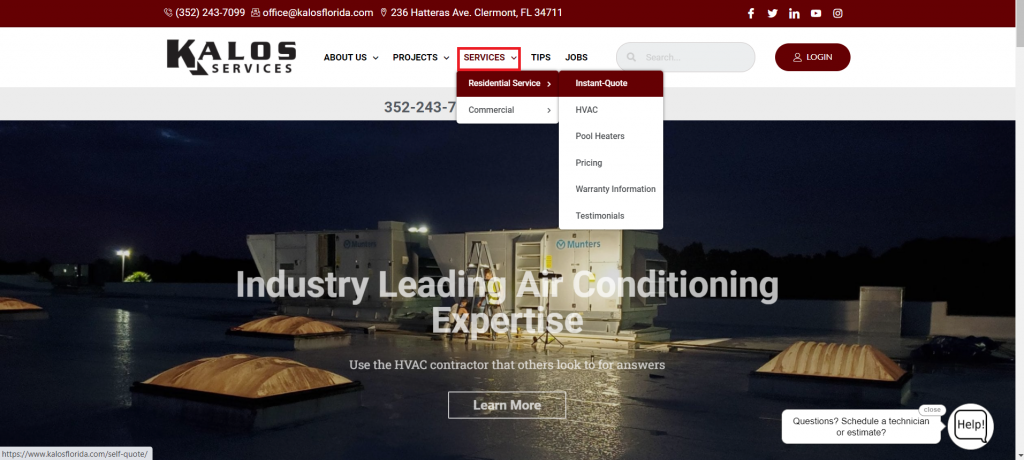 Once you arrive at the instant-quote page, you will be able to read a little bit about the feature and our installation process. For energy efficiency, safety, and comfort reasons, we do not install new gas furnaces but would be pleased to replace your existing furnace with an electric heat pump.
You will also be able to watch a video of a customer testimonial with some pictures and videos of our installers at work. If you read through the information and want to proceed with a self-service estimate, you may click the NEXT button at the bottom right.
CHECK TO SEE IF YOU'RE IN OUR SERVICE AREA
We can normally only do system replacements within our service area, which stretches north to south from Belleview to Haines City and east to west from the central business district of Orlando to Mascotte. There are two ways to confirm if you're in our service area. First, you may pinpoint your address on the map by zooming in and clicking on your home. If the pointer falls into the red area on the map, then you are within our service area.
Alternatively, you may enter your address in the field above the map. Be sure to enter the address, street, city, state, and zip code
If your home is within our service area, you will see this: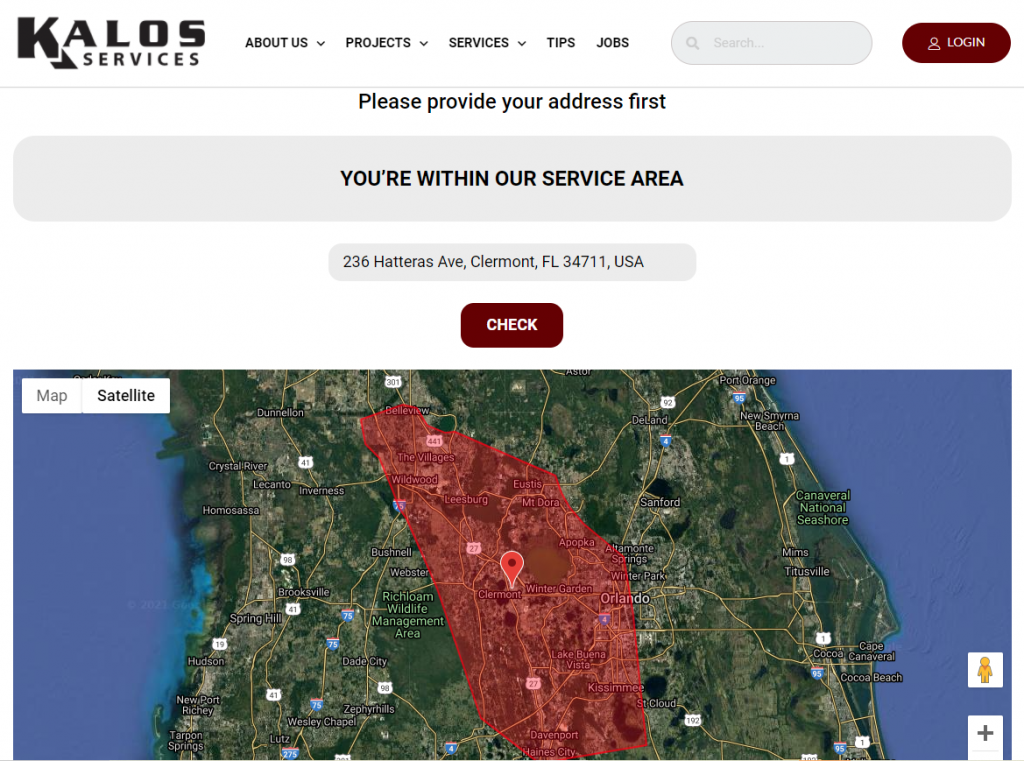 If your home is outside our service area, you will see this: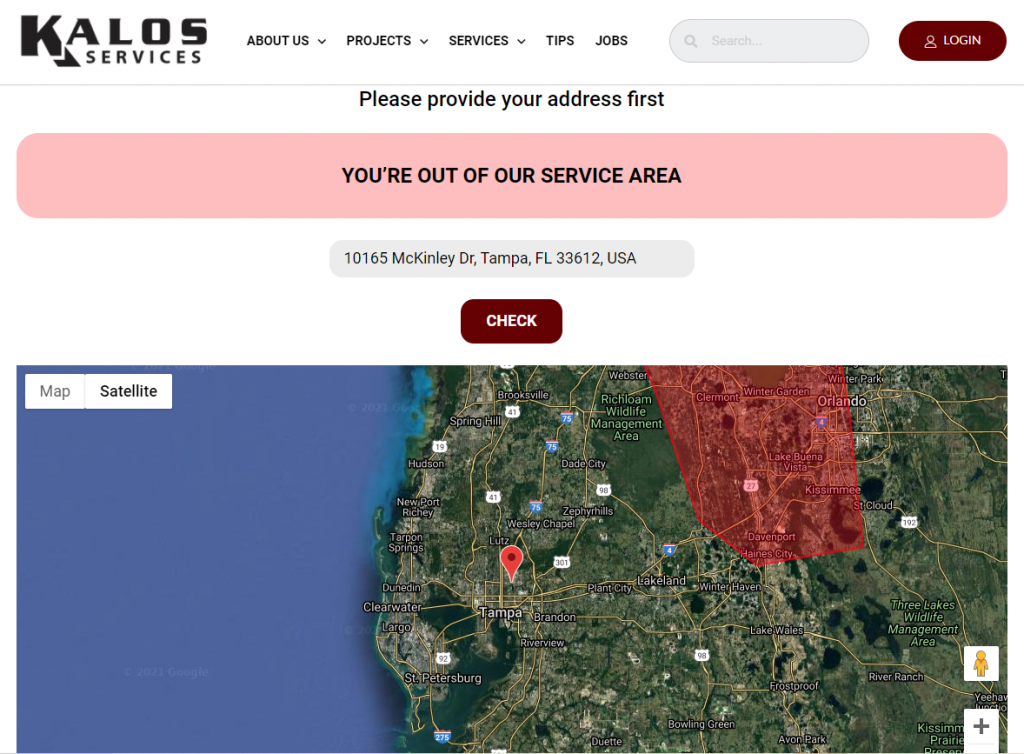 You may only proceed by clicking on the NEXT button at the bottom right of the screen if your home is inside our service area. Otherwise, the NEXT button will be grayed out and unable to be clicked.
SELECT YOUR SYSTEM TYPE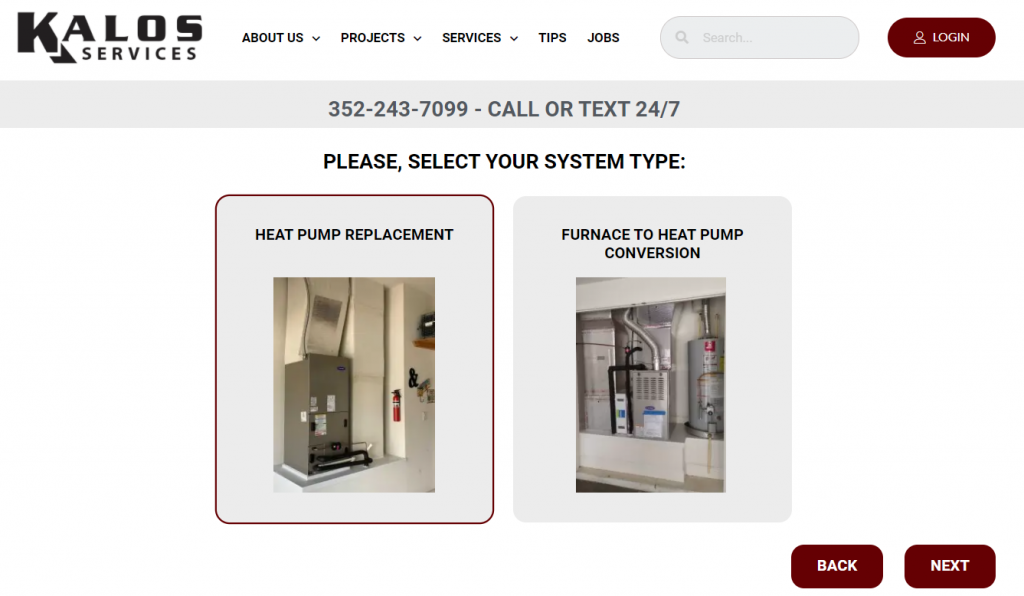 After giving your address and verifying that your home is in our service area, you will have the option to choose a heat pump replacement or furnace-to-heat-pump conversion. If you currently have a furnace system, you will choose the furnace-to-heat-pump conversion. If you currently have a heat pump system, you will choose the heat pump replacement. Again, we do not install replacement gas furnaces for safety, comfort, and efficiency reasons.
UPLOAD IMAGES OF YOUR CURRENT SYSTEM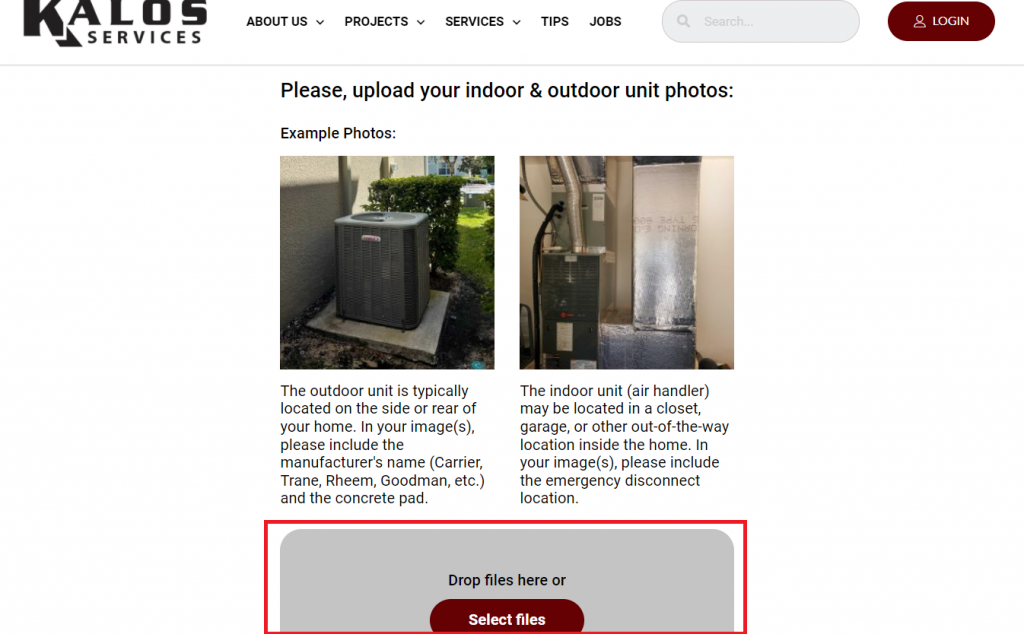 The next page will ask you to upload pictures of your indoor and outdoor A/C units. These pictures will give us a better idea of what the systems are like and how we may be able to navigate the work area. We've also included examples of what we're looking for.
When you upload your outdoor unit's picture, we ask that you please include the concrete pad and equipment manufacturer name, if possible. On the indoor unit, we'd appreciate it if you would include your emergency disconnect location.
Once you've taken pictures of your system and uploaded them to your computer, you can either select the files or drag and drop them into the gray field beneath the sample pictures. You may proceed to the next page after uploading your pictures.
UPLOAD ADDITIONAL PHOTOS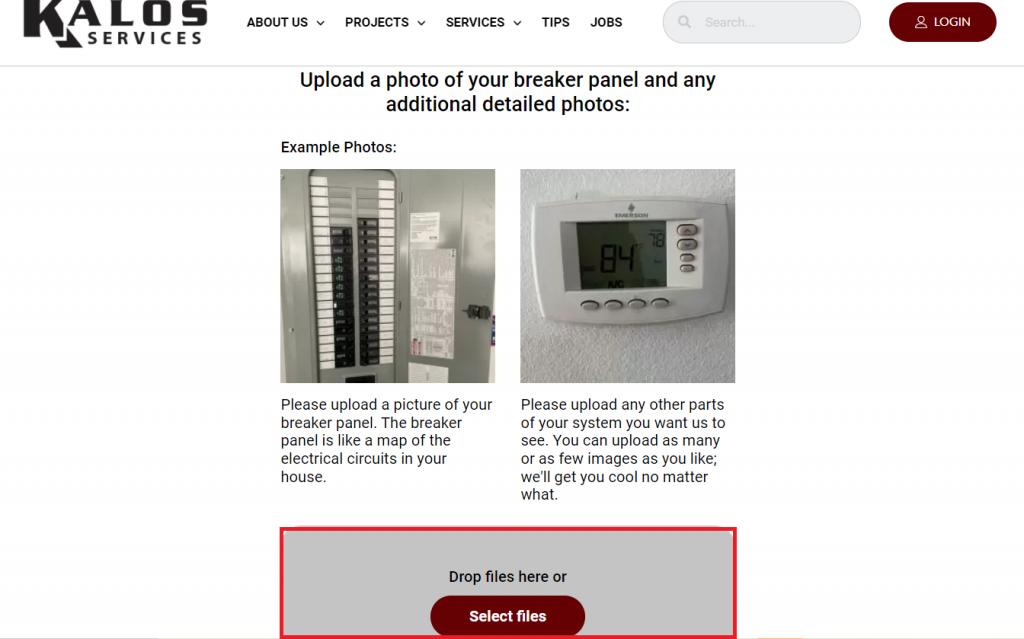 When you finish uploading pictures of your indoor and outdoor unit, you will be asked to upload any additional photos of your system. We recommend uploading pictures of your breaker panel and thermostat, though you may also upload other components you'd like us to see if you wish.
Unlike the previous step, uploading these photos is optional. You may proceed to the next page with or without uploading photos, though we highly recommend uploading your breaker panel.
SELECT YOUR SYSTEM'S TONNAGE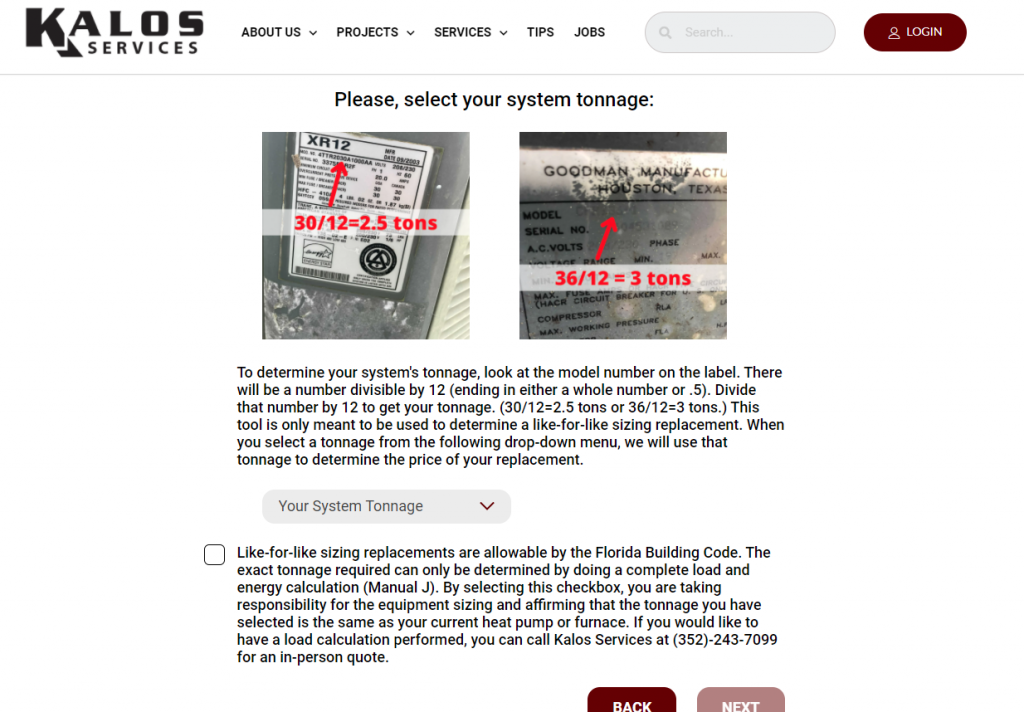 The instant-quote tool can only be used for replacements based on your current system's tonnage. We call this a like-for-like system replacement.
This page of the self-service tool shows you how to find your system's tonnage. Within the model number on your system's label, you will find a number divisible by 6. For example, you may see the number 36 in the model number. Divide that number by 12, and you will see that your system is 3 tons. If you see the number 42 in the model number, you can divide that by 12 to get 3.5 tons. The idea is that you can take the number divisible by 6 and divide it by 12 to get a quotient that is either a whole number or ends in .5.
Once you figure out your system's tonnage, you can select that number from the drop-down menu below the instructions.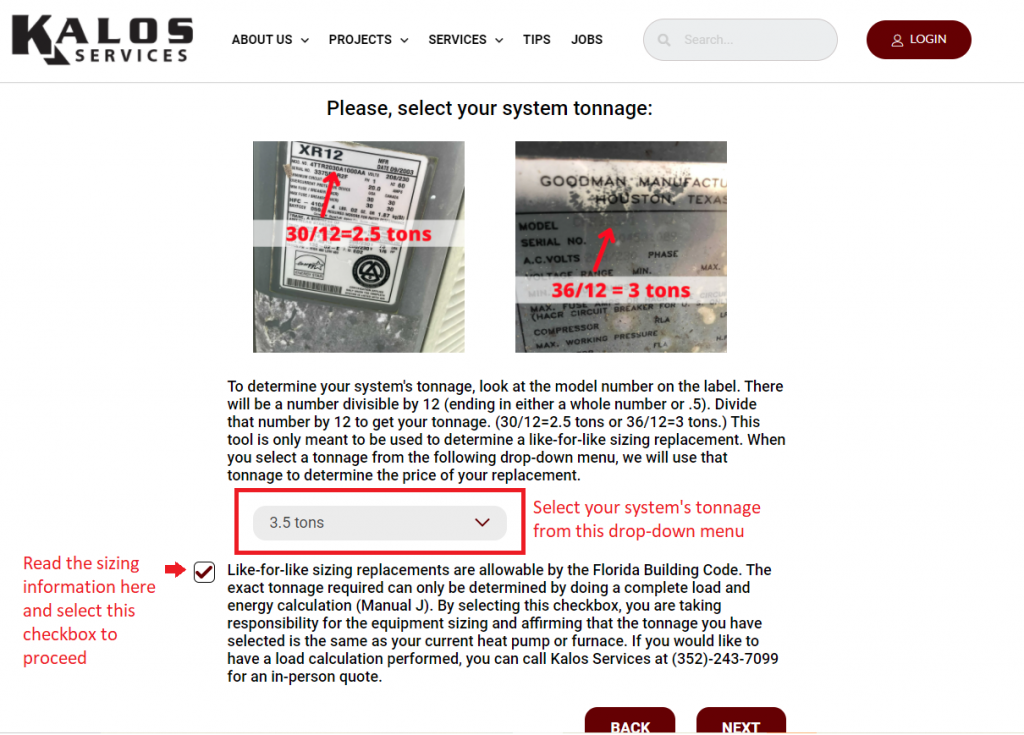 Then, before you proceed, you will have to acknowledge that you are selecting a replacement based on like-for-like system sizing. If you want to find out the exact tonnage for your house, that would require us to do a Manual J load calculation, which is not part of the replacement procedure offered by our instant-quote function.
SELECT THE PACKAGE YOU WANT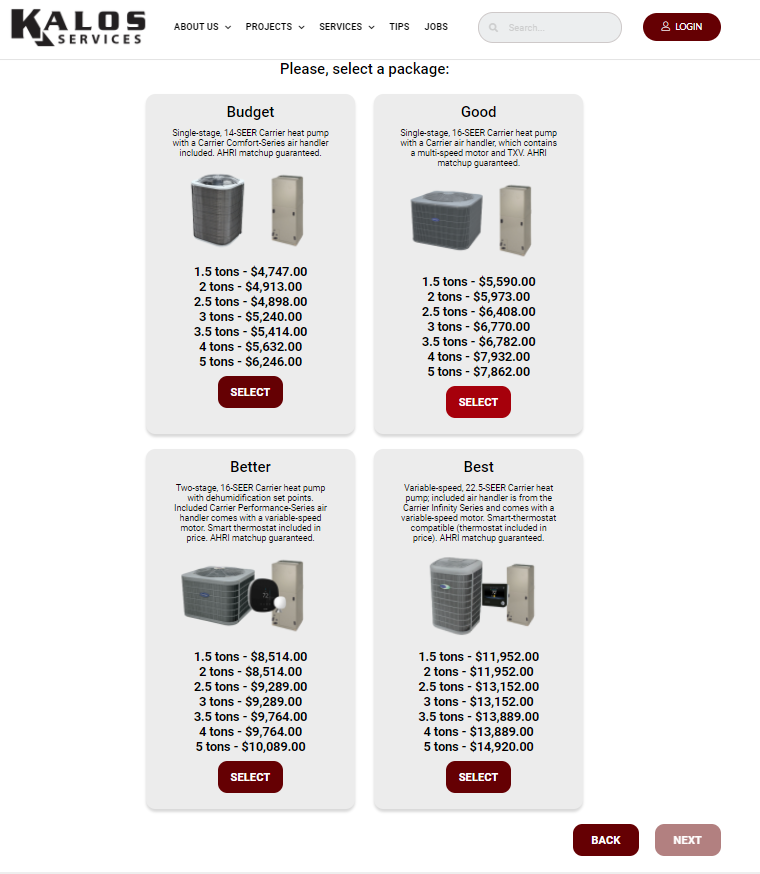 Kalos offers four different service packages with various pricing and features. The budget package will generally be the least expensive, but it will have a single-stage blower motor and a lower SEER rating, meaning that the system may be less efficient than the systems with a higher SEER rating. The better and best packages come with SEER ratings of 16 and 22.5, respectively, and they also have variable-speed motors, making them much more energy-efficient. Those two packages also come with smart thermostats.
Each package comes with a Carrier system consisting of an indoor air handler and an outdoor condenser. You can learn more about Carrier systems on their website HERE. AHRI matchups are guaranteed on all packages regardless of which tier you choose.
Here are the full descriptions of the packages:
Budget
Single-stage, 14-SEER Carrier heat pump with a Carrier Comfort Series air handler included. AHRI matchup guaranteed.
Good
Single-stage, 16-SEER Carrier heat pump with a Carrier Comfort Series air handler, which contains a multi-speed motor and TXV. AHRI matchup guaranteed.
Better
Two-stage, 16-SEER Carrier heat pump with dehumidification set points. The included Carrier Performance Series air handler comes with a variable-speed motor. Smart thermostat included in the price. AHRI matchup guaranteed.
Best
Variable-speed, 22.5-SEER Carrier heat pump; included air handler is from the Carrier Infinity Series and comes with a variable-speed motor. Smart-thermostat compatible (thermostat included in price). AHRI matchup guaranteed.
SELECT THERMOSTAT (BUDGET AND GOOD PACKAGES ONLY)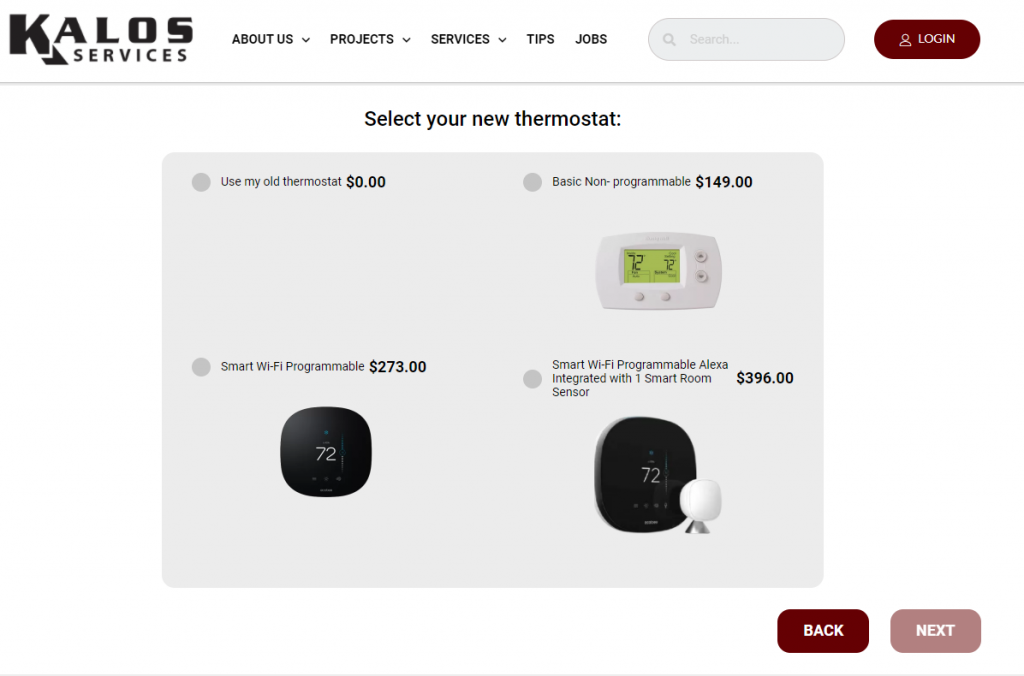 The better and best packages come with smart thermostats, but the budget and good packages do not. You may choose to install a new basic non-programmable thermostat, a smart thermostat, or a smart thermostat with room sensors and integration with Alexa.
You may also choose to keep using your existing thermostat. There will be no additional charges if you choose to keep your current thermostat.
SELECT DESIRED INCLUSIONS AND ACCESSORIES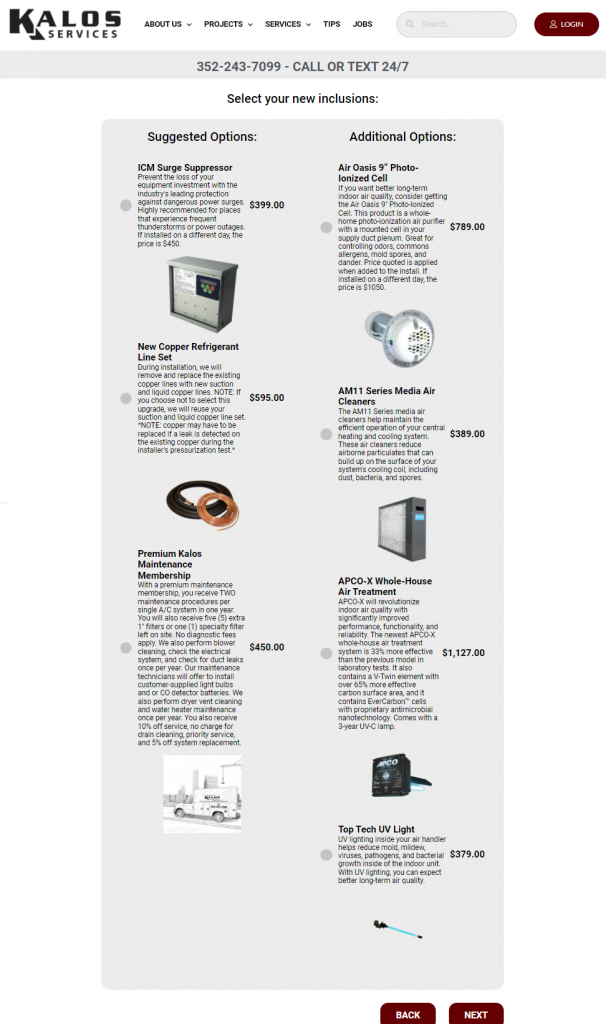 When you order a heat pump replacement with the instant-quote feature, you will be able to browse and include some add-ons to the service. All of these are optional, though we recommend selecting some basic add-ons like a surge suppressor, a new copper line set, and enrollment in our maintenance plan. The more advanced add-ons are IAQ accessories; these are good choices for people who want to maximize their indoor air quality.
Some of the add-ons will be offered at discounted rates if you decide to include them in your instant-quote replacement bundle. For example, surge suppressors generally cost $450, but you can include them in your instant-quote system replacement for $399. However, you do not need to choose any of these add-ons if you don't want them.
Here are all of the inclusions and their descriptions:
Suggested options
ICM Surge Suppressor
Prevent the loss of your equipment investment with the industry's leading protection against dangerous power surges. Highly recommended for places that experience frequent thunderstorms or power outages. *Offered at a discounted rate*
New Copper Refrigerant Line Set
During installation, we will remove and replace the existing copper lines with new suction and liquid copper lines. If you choose not to select this upgrade, we will reuse your suction and liquid copper line set. *NOTE: copper may have to be replaced if a leak is detected on the existing copper during the installer's pressurization test.*
Premium Kalos Maintenance Membership
With a premium maintenance membership, you receive TWO maintenance procedures per single A/C system in one year. You will also receive five (5) extra 1″ filters or one (1) specialty filter left on site. No diagnostic fees apply. We also perform blower cleaning, check the electrical system, and check for duct leaks once per year. Our maintenance technicians will offer to install customer-supplied light bulbs and or CO detector batteries. We also perform dryer vent cleaning and water heater maintenance once per year. You also receive 10% off service, no charge for drain cleaning, priority service, and 5% off system replacement.
Additional options
Air Oasis 9" Photo-Ionized Cell
If you want better long-term indoor air quality, consider getting the Air Oasis 9″ Photo-Ionized Cell. This product is a whole-home photo-ionization air purifier with a mounted cell in your supply duct plenum. Great for controlling odors, common allergens, mold spores, and dander. Price quoted is applied when added to the install. *Offered at a discounted rate*
AM11 Series Media Air Cleaners
The AM11 Series media air cleaners help maintain the efficient operation of your central heating and cooling system. These air cleaners reduce airborne particulates that can build up on the surface of your system's cooling coil, including dust, bacteria, and spores.
APCO-X Whole-House Air Treatment
APCO-X will revolutionize indoor air quality with significantly improved performance, functionality, and reliability. The newest APCO-X whole-house air treatment system is 33% more effective than the previous model in laboratory tests. It also contains a V-Twin element with over 65% more effective carbon surface area, and it contains EverCarbon™ cells with proprietary antimicrobial nanotechnology. Comes with a 3-year UV-C lamp.
Top Tech UV Light
UV lighting inside your air handler helps reduce mold, mildew, viruses, pathogens, and bacterial growth inside of the indoor unit. With UV lighting, you can expect better long-term air quality.
SCHEDULE YOUR REPLACEMENT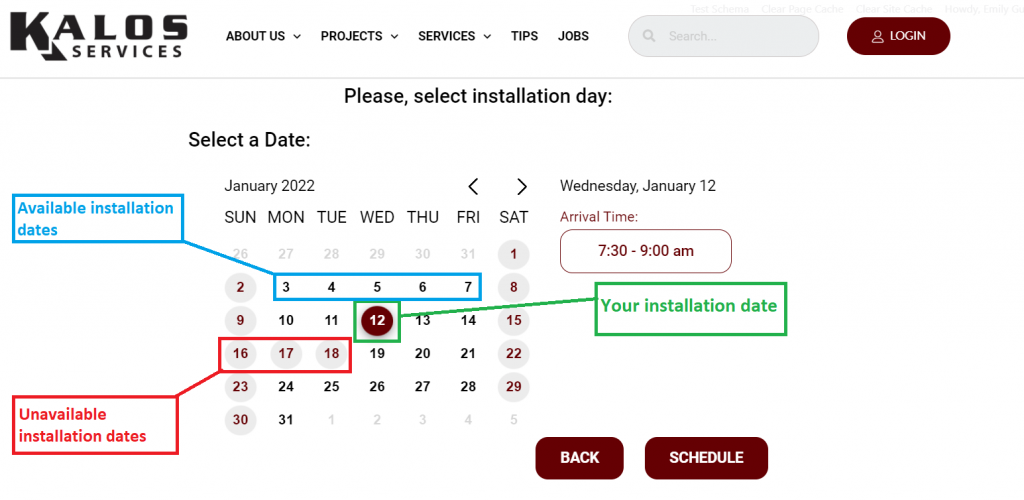 After you select your desired package and accessories, you can schedule the date of your replacement. The arrival time will always be between 7:30 and 9:00 AM.
You can select any date that has a black number without any circles around it. Once you select a date, that number will turn white and have a maroon circle over it. Unavailable dates have a grayed-out circle around them, and the numbers are maroon. Weekends, holidays, and fully-booked dates will be unavailable.
Once you have selected a date that works for you, click SCHEDULE to proceed and begin finalizing your instant-quote replacement.
FINALIZE YOUR ORDER
Before we prepare to send someone out to your home, we will set up a report with all of the information you have reported on the instant-quote service, including your location, the pictures you have uploaded, your tonnage selection, package, add-ons, and installation date. At the end of the report, we will include the estimated price for the service. You can review this report and go back to adjust your selections if something doesn't seem right.
You will then be required to acknowledge your responsibility for system sizing, the service agreement, and the payment conditions of Kalos Services. Once you electronically sign that document and proceed, your installation will be scheduled!
Try out our instant-quote service today at www.kalosflorida.com/self-quote/.